ADA Assistive Listening Requirements Guide
Did you know that approximately 17 percent of Americans — 48 million — report some degree of hearing loss? In older people, this is even more common with 1 in 3 people over the age of 65 affected. TheAmericans with Disabilities Act (ADA) of 1990, which was revised in 2010 prohibits discrimination based on disability. It establishes that all state and local governments, businesses, and nonprofit organizations that serve the public must communicate effectively with people who have communication disabilities. To address this need, a set of electronic devices must be on site and readily available to anyone who requests it, unless doing so would result in a significant difficulty or expense. However, venues in which sound amplification is not provided do not require assistive listening systems except for courtrooms.
Required Systems
Assistive Listening Systems (ALSs) also called Assistive Listening Devices (ALDs) amplify the sound brought directly into the ear by separating the sounds, particularly speech, that a person wants to hear from background noise. They also improve the "speech to noise ratio"(SNR), which measures the percentage of unwanted noise in an audio stream relative to recognizable speech.There are different types of ALSs, including FM, infrared, inductive loop, and Wi-Fi.
The most popular and cost effective are FM systems. These systems, which are like a mini-FM radio station but work on an exclusive frequency band for assistive listening applications, use radio broadcast technology and consist of an FM transmitter, which may be connected to the PA or audio system of the venue or worn around the waist for a portable solution. The hard of hearing uses a portable FM receiver connected to headphones or neck loops for people with hearing aids with telecoil. The number of receivers needed is based on the total occupancy or number of seats*). The end user can adjust the volume as needed.
*The chart below shows the specific number of receivers required based on seating capacity.
| | | |
| --- | --- | --- |
| Seating Capacity | Minimum Number of Receivers Required | Minimum Number of Receivers Required to be Hearing-aid Compatible |
| 50 and under | 2 | 2 |
| 51-200 | 2, plus 1 per 25 seats over 50 | 2 |
| 201-500 | 2, plus 1 per 25 seats over 50 | 1 per 4 receivers |
| 501-1000 | 20, plus 1 per 33 seats over 500 | 1 per 4 receivers |
| 1001-2000 | 25, plus 1 per 50 seats over 1000 | 1 per 4 receivers |
| 2001 and over | 55, plus 1 per 100 seats over 2000 | 1 per 4 receivers |
Why is Hearing Assistive Technology (HAT) important?
Hearing Assistive Technology is vital as it can dramatically improve the lives of people with hearing loss.
Public venues such as churches, courtrooms, theaters, arenas, etc. should make their events as inclusive as possible, not only by providing accommodations for people with reduced mobility and/or in wheelchairs, but also for the hard of hearing.
Public events, be it a courtroom trial or a live theater performance have a vested interest in maintaining their respective assembly areas filled as much as possible, whether for commercial gain to increase revenue or for public interest communication like a town hall meeting. Considering the large numbers of people who would not otherwise attend these functions without assistive technology devices, possessing them has become a must, regardless of whether it is mandatory or not. Additionally, competing locales in the same area of interest will have probably already equipped themselves with these devices, anticipating that the intended audience will naturally gravitate towards venues where assistive technology is available.
Assistive Listening in Education and Houses of Worship
Assistive listening technology is beneficial for hard of hearing students who might struggle to listen to the teacher over background noise, even while wearing hearing aids. FM wireless systems help them sort through the noise and echo to focus on what they are supposed to hear over all the noise they are not supposed to hear.
The Individuals with Disabilities Education Act (IDEA), originally known as the Education of Handicapped Children Act, was passed in 1975 to ensure that students who are deaf or hard of hearing receive an appropriate education. This includes that each public agency must ensure that assistive technology devices or assistive technology services, or both are made available to a child with a disability if required.
ALDs in education consist of a microphone connected to a wireless transmitter that is positioned close to the teacher's mouth and sends their voice through the air or by cable to the receiver worn by the student.ALDs provide crystal clear sound, reduce distance, eliminate echoes, and background noise, while allowing the student to pay attention to the instructor.
Assistive listening technology is also necessary for churches, temples, mosques, and other places of worship. Visitors and congregants in houses of worship are often located a fair distance away from sound sources, such as speakers/presenters, musicians, etc. In addition, churches are usually huge spaces with hard surfaces and high ceilings and are surrounded by large parallel walls. This structure makes hearing difficult as it creates reverberation (the time it takes for a sound to fade, like echo) and increases the overall noise level. Assistive listening devices help overcome this problem by intensifying sounds for congregants and allowing them to hear the preaching without background noise and echo. FM assistive listening systems are compatible with cochlear implants and hearing aids, are easy to use and require minimal installation, making religious services accessible to everyone.
Symbols of Accessibility
It's not only hearing assistive technology that is required to comply with the ADA requirements; a plaque or sign must be clearly displayed in the venue indicating availability of ALS and must include the international symbol of access to an assistive listening system. The following is an example of an ADA plaquewritten in English, Spanish, and French: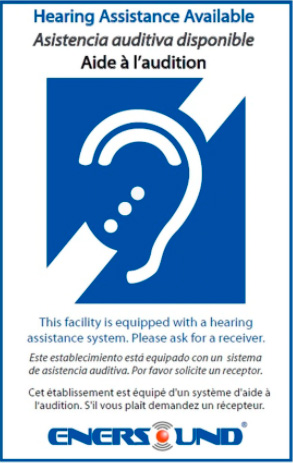 ENERSOUND ADA Assistive Listening Plaque
Conclusion
In conclusion, we can establish that the growing demand for assistive listening systems is in part due to the rising desire among people with hearing impairments to lead normal lives and feel included, but also due to legislation such as ADA and IDEA that protects the rights of people with disabilities in various settings (including education, worship, government, business and more) and mandates that reasonable accommodations be made.
References:
Recent Posts
Simultaneous interpretation, also known as real-time interpretation, is a vital aspect of multilingu …

If you're planning a tour or a trip, having a reliable and efficient tour guide system can make all …

Weddings, business conferences, cafes, clubs, bars and any type of venue. Whether you are a singe …