An increasing number of schools have the need to purchase an interpretation system (also referred to as Translation System) to meet the demands of non-English speaking students at US schools today.
Due to recently passed legislation not only are language interpretation systems needed, but they are also in most cases required by law. New guidelines approved by the Department of Education state that schools must accommodate students who are not proficient in English, be it partially or completely. This not only applies to students for regular day-to-day lessons, but also for their parents who might also need interpretation when they attend parent-teacher conferences or school open houses as part of the enrollment process, as well as any occasion in which interaction between the faculty and the limited English proficient parent (LEP) is necessary. For further information about this legislation, click here.
How does a language interpretation system work?



Step 1
The teacher or principal speaks through a microphone. (In certain occasions, there may not be a microphone available.)
Step 2
The interpreter listens to the speaker's voice, preferably through headphones.
Step 3
The interpreter converts the message into the foreign language by speaking into a microphone connected to a transmitter. The transmitter broadcasts the interpreter's voice wirelessly to the audience.
Step 4
Students and parents listen to the interpreter through wireless receivers with headphones. The receivers used by the audience and the interpreter's transmitter are tuned to the same channel or frequency.
The interpretation occurs in real time while the teacher or presenter is speaking without disrupting the flow of the presentation. For this reason, it is called simultaneous interpretation.
Some questions you should ask yourself before purchasing an interpretation system for your school.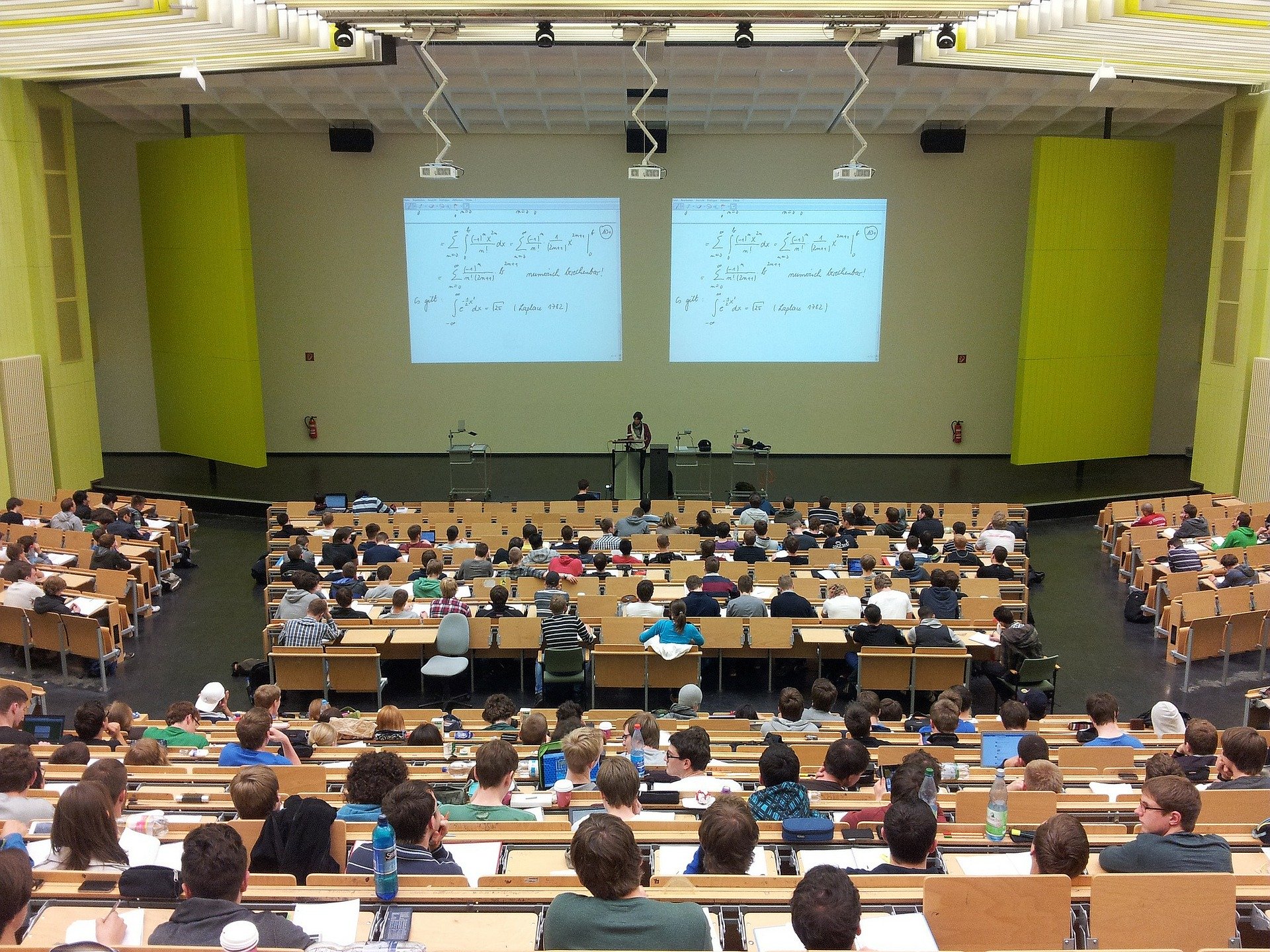 Audience size
How many people require interpretation?
Foreign languages
How many target languages will be needed?
Interpreter location
Where will the interpreter be located? At the back of the room? To the side of the room? In an adjacent room? Or inside a soundproof booth?
Single or multichannel system
Do I need single frequency or multichannel receivers and transmitter?
Additional interpreter equipment
Do I need an interpreter console
Compliance
Are there any regulations these units need to be compliant with?
Choosing the right system
Radio frequency or infrared systems
Infrared (IR) equipment is mostly recommended if privacy is needed or more than 6 channels are required. Set up is more complex and expensive requiring the installation of radiators, whose quantity depends on the size and shape of the room, as well as on the number of channels needed.
Radio frequency systems like FM equipment are easier to install and operate, are more economical and they have become the standard in the industry.
Since most schools do not require more than 6 languages and do not handle classified information, we highly recommend FM systems for their ease of use, portability and price.
Analog or digital systems
In the United States, most RF systems for one-way wireless simultaneous interpretation (SI) are analog FM (Frequency Modulation) systems in the VHF band. The 72 Mhz-76 Mhz and the 216 Mhz bands are reserved by the FCC for auditory assistance communications, including simultaneous language translation. FM Systems are recommended for schools as they are more economical, portable and easier to set up than IR systems. FM signals can penetrate walls and are consequently immune to light interference. An analog RF system can be stationary or portable. A typical analog RF system consists of one transmitter that can be single or multichannel per interpreter and one receiver per participant. RF transmitters are available in stationary and portable (body pack) formats.
Digital RF systems for simultaneous interpretation and guided tours typically work in the 2.4 Ghz and 1.9 Ghz bands. These systems use radio waves to deliver the interpretation to the audience digitally, similarly to WIFI that transmits information through radio frequency. Digital RF systems are recommended for tour-groups or group conferencing when 2-way communication is needed.
There is a great deal of misinformation between analog and digital technologies and many companies depending on what they sell speak in favor of one or the other. The truth is that there is not one better than the other. It depends on the application and technology available. For example, in infrared systems, digital transmission offers a clear advantage over analog transmission. However, in radio frequency transmission like FM for simultaneous interpretation there are visible advantages in analog systems over digital. Analog transmission within the 72-76 MHz frequency range is protected by the FCC for the use in language interpretation and assistive listening and cannot be used for other applications. Digital transmission, on the other hand, must be shared by a rising number of digital devices that can saturate the spectrum.
We highly recommend analog FM systems within 72-76 MHz for language interpretation in the USA, Canada and many other countries.
Portable or table-top transmitter
If the interpreter needs to move around, such as during school open houses, fieldtrips or for outdoor use without the availability of electrical outlets, portable transmitters are a good option. For all other cases, table-top transmitters offer several advantages and are recommended for schools and universities. Some of the advantages of tabletop (or desktop) transmitters are the larger coverage and range, as well as more sophisticated circuits with more functions; they also offer more flexibility like additional inputs. There is one FM desktop transmitter in the market (the Enersound T500) with an interpreter monitoring function that allows the interpreter to select an external incoming audio source and utilize a headset with microphone to listen to the source language without the need of an interpreter console or external headphone amplifier.
Compliance with the rules of the FCC and IC
To ensure the device complies with the applicable technical requirements, the Federal Communications Commission and Industry Canada require that RF devices are properly authorized. This is the principal way to ensure that RF devices used in the United States or Canada operate effectively without causing harmful interference and comply with these rules.
Fines may be levied against educational organizations for infringement to FCC (Federal Communications Commission) and IC (Industry Canada) regulations if your equipment does not operate within the permitted frequency range or does not meet the technical standards. There may even be more serious legal consequences for repeat violations.
Nowadays, gear from other countries can be easily found on marketplaces, and no one takes responsibility for that but you. It might even work correctly under another countries' rules, but not in The United States or Canada. Neither can you be absolutely sure that their performance quality had been fully evaluated.
To play safe and avoid costly legal consequences, always purchase systems from US or Canadian retailers that sell FCC and IC approved equipment. Purchasing an FCC/ IC approved system within the 72-76 MHz band, does not require any additional licensing on your part. If purchasing an interpretation system from a foreign seller, always request the FCC id for the product you intend to purchase and verify their authenticity at FCC website. The FCC id is an alphanumeric code. For example, the Enersound T500 transmitter FCC Id is 2ABY4T500.
Interpreter console
If you are planning to use the interpretation system for conferences engaging discussion in multiple languages, an interpreter console may be required.
The interpreter uses an interpreter console to adjust the volume and tone of the sound he/she hears, as well as to select the outgoing channel. The interpreter console has controls that allow the interpreter to activate or deactivate the output from his or her microphone and select the input and output channels. On professional systems, the interpreter console also interacts with the central control unit to allow the use of the relay function between different booths and the routing of the floor signals when the interpreter's microphone is deactivated.
Do I need an interpreter console for my school? Most common simple settings, where a Principal or teacher speaks to an audience, be it a PTO meeting, or parent-teacher conference, do not require an interpreter console. But it´s recommended to use a transmitter with an interpreter monitor as it makes the interpreter´s job easier and improves the quality of the interpretation.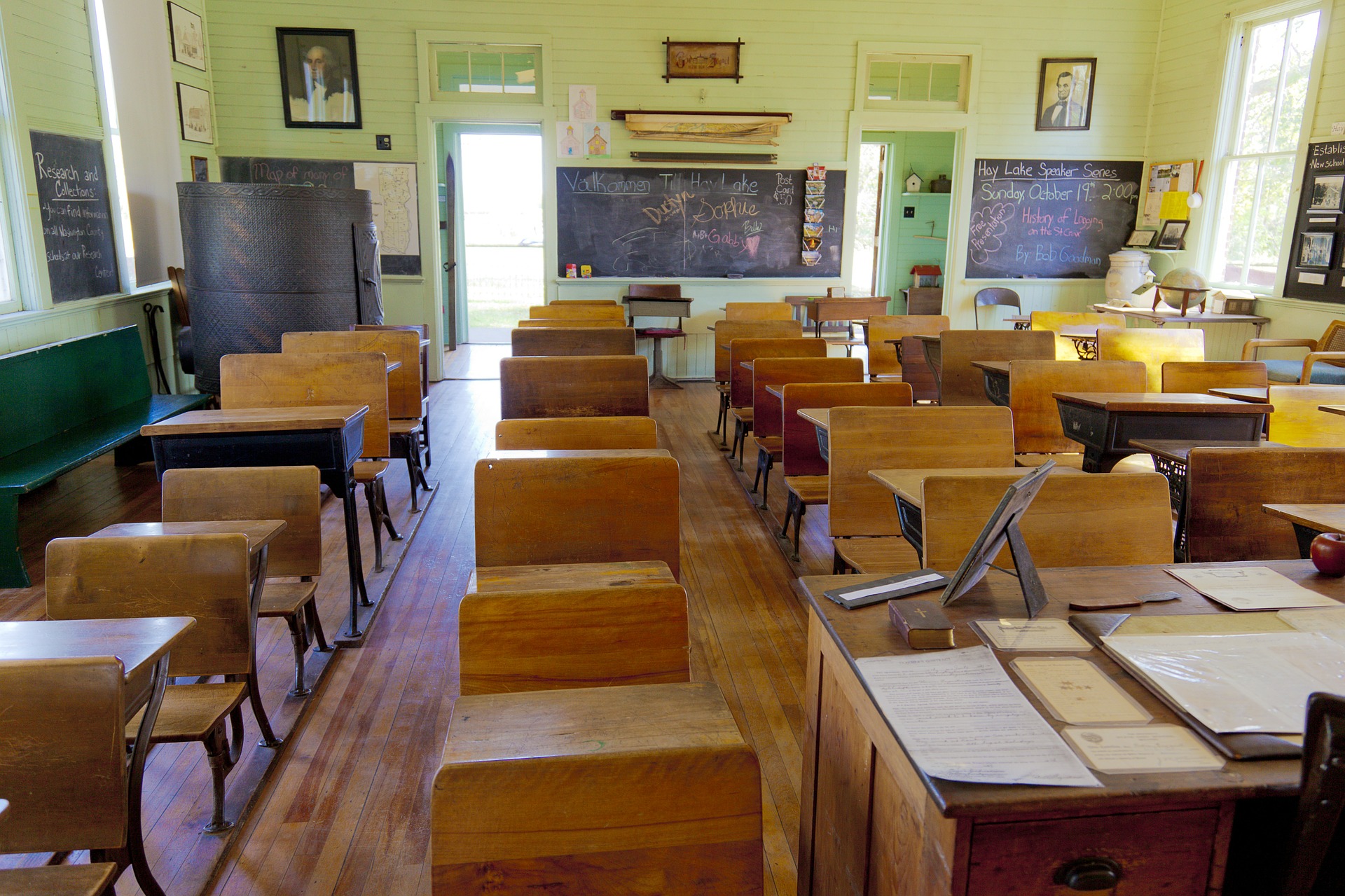 Single or multichannel system
Single frequency receivers are not the best option since they operate with one fixed frequency only.
A multichannel receiver lets you work with different channels and if the receiver also has an LCD screen, it makes it easier to select among them.
Multichannel receivers are preferred for more channels in case needed to cover additional languages or when having interpretation in multiple classrooms and also for greater flexibility in case of interference.
Accessories
A case is a good option when you need to carry the receivers around. Some cases have extra space to store accessories such as a transmitter, earphones and microphones. You might want to make sure these units are fully protected too!
Don't forget to purchase the necessary cables to connect your system.
It's important that the interpreter has, in addition to the microphone, a headphone allowing the interpreter to listen to the teacher, as long as the system has interpreter monitoring capabilities. For greater comfort, you may purchase an interpreter headset with a microphone attached instead of having two separate pieces (a microphone and a headphone.)
Booths
If the budget allows it at your school, the purchase of an interpretation booth can be considered a plus for sound reduction from the interpreter's voice, especially if the interpreter is seated too close to the students or parents. Although some schools due to budgetary constraints or space restrictions may not be able to purchase one.
For simultaneous interpretation you will normally need one booth per language. Most booths can accommodate 1 or 2 interpreters comfortably.
Translation booths are ideal for simultaneous interpretation at meetings and conferences as they provide acoustic separation between interpreters, participants and attendees, building a comfortable working environment, allowing perfect visual and audio communication. We recommend full size, sound-proof interpretation booths for full day events, and table-top interpretation booths for greater portability or for smaller areas.
Lithium Batteries Warning!
Avoid cheap, low-quality systems using lithium batteries as they may pose a fire hazard for the user and the venue. To minimize costs, many manufacturers overseas use low-cost, Lithium-ion battery or Lithium-Polymer batteries that are not manufactured under the costly safety standards and materials that these products require, posing a higher fire and explosion risk that increases as these batteries age. The risk is multiplied by the number of batteries that you store.
If shipping or travelling with receivers, keep in mind that most airlines restrict the quantity of lithium items.
Stay away from receivers with built-in rechargeable batteries as the typical lithium battery degrades in about two years, even if they are sitting on a shelf unused, and once the battery dies, you will have to discard the receiver.
Other things to consider before purchasing a system
Verify the extent of warranty coverage and where it is based.
Avoid inexpensive systems with low audio volume and poor quality as the interpretation has to be heard on receivers, while another language is amplified over the loudspeakers.
Our choice
We have found that interpretation systems with the Enersound T-500 unit, feature all of the things covered in this article as well as a unique Interpreter Monitor Output that lets you connect your PA system straight to its rear panel, allowing the interpreter to have every parameter under his or her control. A volume knob and a mute button complete a professional job when used. They are available in packages for 5, 10, 25, 50, 75 or 100 people and other quantities are also available based on your school's needs. Bottom line, this system turned out to be a remarkably user-friendly plug and play package that even includes an awesome built-in interpreter monitor option making it clearly stands out from the run of the mill equipment you can find on the market.
Recommended Packages for schools:
25-Person Translation System with Interpreter Monitor for PTO meetings and parent-teacher conferences.
https://www.translation.equipment/simultaneous-translation-systems/
For a portable option for school open houses, small meetings or field trips, we recommend the 25-Person Portable Translation / Tourguide System
https://www.translation.equipment/25-person-portable-translation-tourguide-system/
Recent Posts
Simultaneous interpretation, also known as real-time interpretation, is a vital aspect of multilingu …

If you're planning a tour or a trip, having a reliable and efficient tour guide system can make all …

Weddings, business conferences, cafes, clubs, bars and any type of venue. Whether you are a singe …