Executives are used to comfortable meeting rooms, in which communication is simple and direct, but from time to time they need to make visits to factory floors or assemble lines, where many different factors will affect being able to carry out a straight forward conversation. These places are often noisy due to loud machinery that oblige workers to talk at the top of their voices to be heard. Uneven space can be a restricting factor as well, especially in cases where groups of 10 or more executives need to be in touch with each other while walking along narrow corridors or elevated platforms that are not designed for such a use.
In these situations, there is usually one speaker that acts as a tour guide of sorts for the executives, describing the different stations and items they see as they walk along the floor. And without the assistance of technology to reduce background noise,it will become impossible to properly convey a crisp and clear message.
A tour guide system consists of a body-pack, hands-free transmitter with a headset microphone for the speaker, wireless receivers with headphones for the participants, and (often) a storage case.
Both receivers and transmitter must be on the same channel or frequency to let the speaker's voice come through on the receiver's end. This means that each receiver automatically connects to the frequency that the speaker's transmitter is broadcasting in, and through headphones participants listen loud and clear to the spoken words. The range of the transmitter allows the executives to wander on their own within the floor and not stay restricted to be near the speaker to hear, or even each other. It is an easy-to-use and smart solution that will satisfy both the participants and the tour guides.
The Best Systems in the Market for Factory Visits
Enersound TSC Tour Guide System
This is a highly affordable option, with 3-year warranty and US based support. The design is simple and elegant. This system includes 4-channel FM transmitter with headband microphone, wireless receivers with programmable channel and headphones. Both the transmitter and receiver are battery operated, and offer a turn-key, easy-to-use solution that requires no setup. This system is available for 5, 10, 20 and 50 participants with the option to expand the system if needed to accommodate additional users.
ListenTalk LKS-1
What makes this option standout in our list is the two-way communication feature that allows participants to ask questions to the speaker while all the other listeners can hear them as well. If back and forward discussion is going to be a part of the visit, then two-way system such as this one is the way to go. This system includes four (4) Transceivers (with Leader Clips), one (1) Headset-2, and one (1) 4-Port USB Charger, all designed to enable convenient communication between one leader and up to three additional team members at a time. The LKS-1 is expandable to meet the growing needs of your venue, and more transceivers can be added at any time.
Williams Sound DWS TGS 10 300
This one-way, wireless tour guide system in the 2.4 GHz band is ideal for smaller tour groups of 10 or fewer members. It enhances communication between the tour guide and group members and helps overcome background noise and distance from the tour guide. The system can be used in factories, museums, tourist attractions, or bus tours. Group members have listen-only capabilities.
Enersound TSP Professional Tour Guide System
Unlike the most affordable TSC option from this brand, this system provides multichannel receivers and lifetime warranty. The multi-channel option becomes necessary when there is more than one language being spoken on the floor that needs to be relayed to the participants. They can adjust the channel selector on any of the receivers and seamless transition from one audio channel to the other. This system is available for 5, 10, 25, 50, 75 and 100 participants and can be expanded as needed to accommodate more participants and speakers.
Sennheiser TG-2020 20-Person Tour Guide System with Bodypack Transmitter
This Sennheiser system ensures superior audio quality, reliability and ease of use, as it is characteristic of this German brand, however the elevated price tag might deter the most price conscious buyer from purchasing this system and consider an alternative option to balance quality and price.
There are many tour guide systems in the market, but we strongly recommend one with an FCC ID to ensure it conforms to the US Federal Communications Commission standards, US based support channels and warranty protection. With this in mind, our top option in the 2020 is the TSC Tour guide system by Enersound, for both its affordability and quality. It comes in bundles that include five, ten, twenty and fifty receivers, however an unlimited number can be added if needed.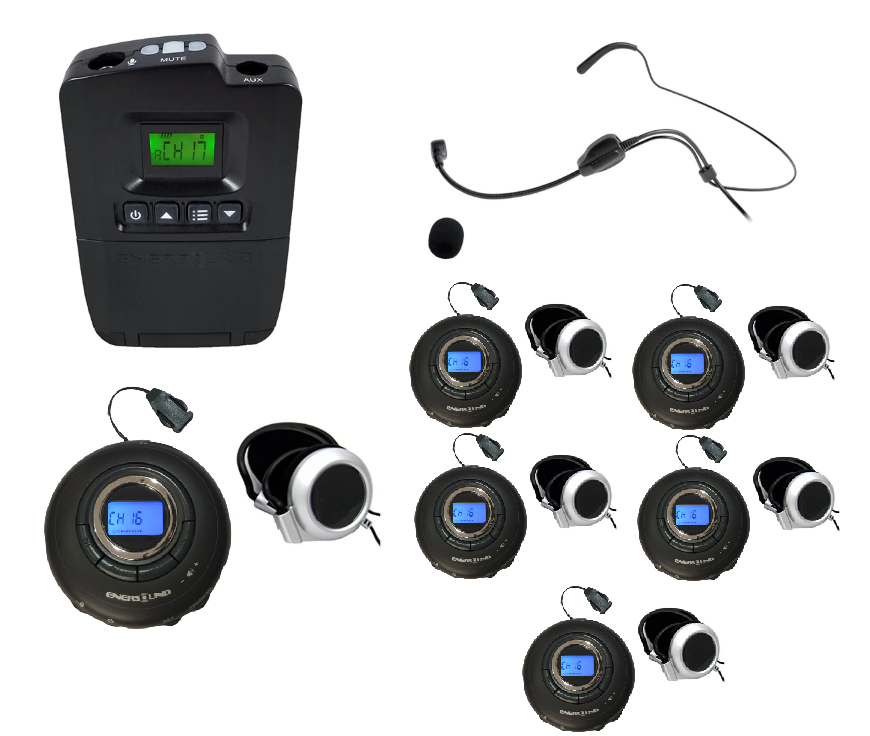 For more information you can contact their official distributor at 1-888-737-4030 or via email sales@translationequipment.net
Recent Posts
Simultaneous interpretation, also known as real-time interpretation, is a vital aspect of multilingu …

If you're planning a tour or a trip, having a reliable and efficient tour guide system can make all …

Weddings, business conferences, cafes, clubs, bars and any type of venue. Whether you are a singe …