Navigating the legal system can be difficult for someone whose native language is not English. That's why court interpreters are vital in legal proceedings, including court hearings, trials, mediations, depositions, examinations under oath, and more. State and federally certified court interpreters assist limited-English proficient and deaf and hard-of-hearing court participants in bridging this language gap, but they cannot fulfill this task alone; they need the aid of technology.
To keep interpreters safe during the COVID-19 crisis and lower the virus transmission, many interpreters have been working remotely through video remote interpreting (VRI) or over-the-phone (OTP) interpreting. But courts are reopening slowly in some states for emergency hearings and wireless simultaneous interpreting (SI) systems have become a necessity due to the need for social distancing to help keep everyone safe. Using wireless SI equipment means not having to breathe into anyone's face and protects interpreters (and their LEP court users) from getting sick.
These systems consist of a portable, body-pack transmitter connected to a microphone for the interpreter that allows him or her to speak at a regular indoor voice volume and broadcast the interpretation using an FM signal. The limited English proficient (LEP) individuals will be given special receivers that will tune in automatically to the same frequency and play the audio containing the interpreter's simultaneous interpretation of the proceedings.
There is a wide variety and price range for portable tour-guide interpreting equipment. While browsing online for the best system for your needs be aware that some systems are from dubious origins and more often than not fail to provide any indication of the FCC approval required for these devices. These companies skip the mandatory certification steps; therefore, lowering their cost and proving a selling point lower than the properly registered and legal equipment proposals on the market. Additionally, their warranty protection and customer support information are vague or non-descript, and most likely inexistent.
Cheap solutions for court interpretation
Upon reviewing the most popular systems currently available keeping in mind their price tag, our recommendations heavily incline for Enersound systems that are not only economical but at the same time carry all the proper certifications and FCC approval, as well as reliable customer support and US-based warranty coverage. This solution consists of a portable 4-Channel FM transmitter, a professional headband microphone and the wireless FM receivers with earphones. The amount of the receivers is what determines the final price, with bundles for 5 listeners, 10 listeners and 20 listeners respectively. Additional receivers and transmitters can be purchased separately if needed.
If you have any other questions about wireless interpreting systems for courtrooms and other legal proceedings, please contact us at 1-888-878-8935 or via email at sales@translationequipment.net.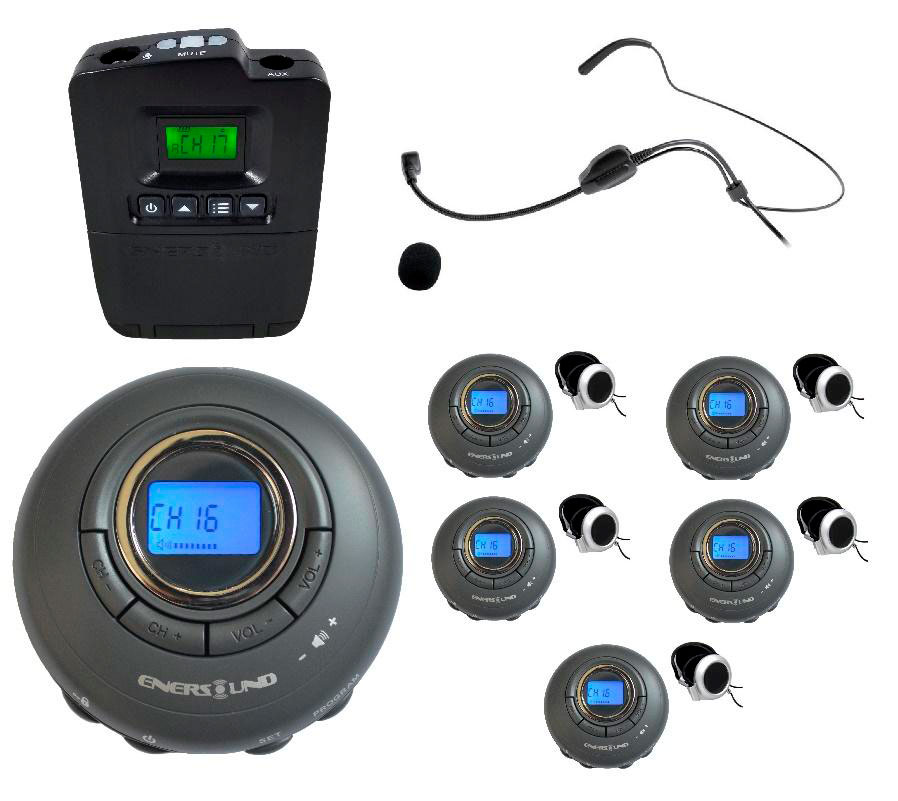 Solutions for court interpreters
Recent Posts
Simultaneous interpretation, also known as real-time interpretation, is a vital aspect of multilingu …

If you're planning a tour or a trip, having a reliable and efficient tour guide system can make all …

Weddings, business conferences, cafes, clubs, bars and any type of venue. Whether you are a singe …